ARGISOL® - we make your dreams come true...
No matter for which option you will decide-beginning by the ARGISOL - Kit with complete planning and structural calculations until turn-key hand-over - our ARGISOL Team will support you individually by realisation of your demands.
"NEOPOR® / Styropor® = reg. Marke BASF"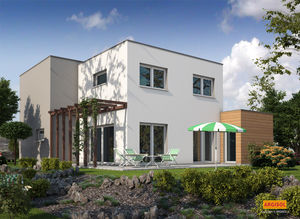 Unser aktuelles Angebot
Typenhaus "Cleveland" als Ausbauhaus zum selbst Bauen!
Im genannten Preis enthalten:
alle tragenden ARGISOL Innen- und Außenwände
ARGISOL-Deckenelemente
Bodenplattendämmschalung
Fensterelemente mit Aufbaurollläden und elektrischem Antrieb
komplettes Dach
Gerne laden wir Sie zu einem perönlichen Gespräch in unser Büro ein, um Sie ausführlich über unser ARGISOL-Bausystem zu informieren. Auch besteht die Möglichkeit zur Besichtigung unseres Musterhauses.
Wir freuen uns über Ihre Anfrage!
Typenhaus Cleveland 135 m²
Ein schönes und stilvolles Einfamilienhaus mit klassischem Satteldach.
Der Flachdacherker, der sich über 2 Geschosse zieht verleiht dem Haus eine spezielle Note und lockert die Fassade auf. Durch die großzügige Überdachung des Eingangsbereichs entsteht auch ein wunderbarer Balkon im Obergeschoss, der zum Erholen und Entspannen einlädt. Im Inneren verteilen sich 135 m² Wohnfläche auf 2 Geschossen. Lichtdurchflutete und großgeschnittene Räume laden zum Verweilen ein.
Gesamtfläche: 134,87 m²
1.Fast, easy, cost-saving
One decisive advantage of ICF constructions are low wage costs: they are only 1/3 in comparasion to traditional ways of building. To build with ARGISOL® is child's play: due to the nubs even a layman is able to build in a truly aligned and plumb way. Furthermore, unfilled elements are very light and therefore make heavy building work much easier. ARGISOL® shuttering elements can be put up and filled in no time in comparision with brick walls. Last but not least, the ARGISOL® building system is more cost-saving than traditional ways of building.
2. Energy-conscious
Building in a traditional way means that high demands on heat protection can only be met by using additional heat insulation. By using double-sided Neopor® shuttering ARGISOL® allows you to achieve an incredible U-result of 0,27W/m²K. With ARGISOL® you will always get a low-energy house.
3. Comfortable room atmosphere
By insulating the inside wall, the wall surface temperature differs only by 1°Celcius from the room temperature. As a result, there is hardly any air circulation because of temperature differences in the room. Therefore a comfortable feeling is achieved at any season of the year, summer and winter alike. Due to the solid concrete core reliable sound absorption parameter of Rw = 45 dB is achieved - a guarantee for quiet living.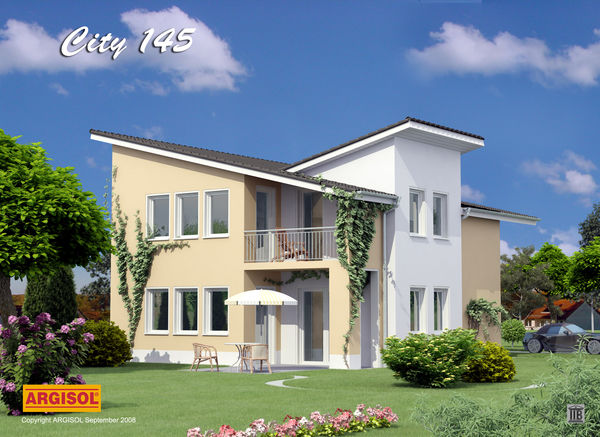 An offer for you...
ARGISOL® Shuttering Elements manufactured of NEOPOR® by BASF will realize your dream of your Fertighaus / Niedrigenergiehaus a bit earlier...
What do home-builders suspect nowadays?
Energy efficient, quick and economically building!
We do have your solution by the cost- and energy - efficient construction-set-home consisting of shuttering elements made of NEOPOR®.
Caused by the new energy reform acts the demand for low energy homes as well as passive homes increased consiberably during the last years. At the same time the need for building methods for construction-set-homes which can be built easily also by do-it-yourselvers becomes more. Because those, who build hands-on, can easily save from foundation to roof.
Cost-efficient building with ARGISOL® Private-Residential-Building made of Styropor®/NEOPOR®
ARGISOL® Shuttering Elements made of NEOPOR® and Styropor® fulfill the demands on energy-efficient and competitive construction. ARGISOL® Shuttering Elements made out of Styropor® are used since 1986. The enhanced raw materials of BASF caused newly concepted shuttering elements, which then were made of NEOPOR®. The highly insulating shuttering elements made of Neopor allow fast construction and any ground plan. Find out more about shuttering elements made of NEOPOR® / Styropor® and get more informed about our huge ARGISOL® - product - range.
The following pages will inform you about our innovative, future oriented construction system.
Mit ARGISOL® bauen Sie nicht alleine - schauen Sie sich unsere Serviceleistungen an.
Building with ARGISOL® will not let you allone - please check our services.
Haben Sie noch keine konkrete Vorstellung, wie Ihr zukünftiges Niedrigenergiehaus aussehen soll – lassen Sie sich von unseren Typenhäuser inspirieren.
In case you still have no precise vision, how your prospective low energy home shall look like - get inspired by our Modell Homes.
Möchten Sie sich einen Überblick über die voraussichtlichen Baukosten machen? Dann probieren Sie doch mal unseren Baukostenrechner aus.
Would you like to overview your expected cost of construction? Please try our Building Cost Calculator.
Oder interessieren Sie sich mehr für technische Detaillösungen unseres ARGISOL® - Bausystems? Auf unseren Technik-Seiten sind Sie hierzu gut aufgehoben.
Or may be you are more interested in technical detail solutions of our ARGISOL Building System ? Then feel free to check our Technical Chapter.
You also can request a list of reference homes and our bruchures. Please fill in the contact form.
Prefab Construction by Shuttering Elements made of NEOPOR® and Styropor® - from Floor Slab - Shuttering to complete Shuttering
After concreting process the shuttering elements made of NEOPOR® have a massive concrete core which already has an already integrated inner and outer wall insulation. Consequently the house is perfectly insulated, because the two-sided Shuttering made of NEOPOR® prevents almost all discharge of warmth to the outside. The small difference of only one degree between room air and wall surface prevents almost all movements of room air.
Consequently there is a cozy feeling of living all around the year.
No matter how you decide, a do-it-yourself ARGISOL® kit consisiting of NEOPOR®/Styropor® for homebuilders, including complete plans, structural calculations, thermal insulation certificate and energy certification until turn-key low energy home built of ARGISOL® Shuttering elements.
It will be our pleasure to discuss with you personnally about energy efficient and economic construction with Shuttering Elements made of NEOPOR®/Styropor®.
You may reach us per phone at +49(0)6359/9326-(0) or send an email to: info(at)argisol-bewa.de.
Enjoy reading
your ARGISOL Team
"NEOPOR® / Styropor® = reg. Marke BASF"