ARGISOL® Eurorip ceiling element
Polystyrol rigid foam ceiling elements are made to measure and equipped with sheet steel.
From a static point of view, ARGISOL Eurorip ceiling elements are permanent shutterings of ribbed ceilings according to DIN 1045: load-bearing capacity is achieved by an individual reinforcement of the ribs and the board.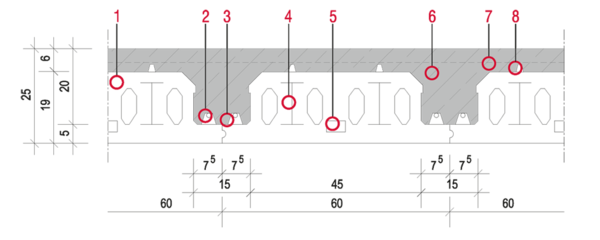 ARGISOL Eurorip ceiling element (shuttering body)
Rib reinforcement according to static calculations
Spacer for rib reinforcement
Double T-girder made from sheet steel
Spaces to insert wooden slats
Space for concrete B25, standard consistency, granulation 0/08
Diagonal reinforcement according to DIN 1045
Spacer for mat reinforcement
The underside of the ceiling surface can be rendered or smoothed over. Easiest possible assembly of ceiling lining systems and wooden ceilings by inserting battens on site.
It takes just 1 minute to put up one square meter (two people), thus making it faster ever ceiling to put up. After the rib reinforcement as well as any necessary electric wires have been laid, you can apply the concrete by pump or silo. The concrete thickness should be 6 cm or more, according to static necessity.
Technical Details
| | |
| --- | --- |
| Widths/elements: | 60 cm |
| Heights/elements: | 19 cm (without concrete cover) |
| Lengths/elements: | factory cut to building size or room measurements. Standard lengths up to 6 m, special lengths available |
| Height of spacers: | 20 cm |
| Width of spacers: | 15 cm |
| Weight/elements: | approximately 4,8 kg per running meter |
| Material: | Polystyrol rigid foam, flame resistant, Volumetric weight 22 kg/m³ |
| Material/ Double T-sheets: | ST 52 d = 1 mm |
| Self supporting capacity during assembly (including 6 cm concrete cover and weight of one man): | max. 3,00 m |
| Amount of concrete needed for 6 cm concrete cover: | 95 l/m² (0,095 m³/m²) |
| Concrete quality: | concrete C25/30 XC4 XF1 XA1 F3 8 according to EN 206 (formerly B25/08 KR) |
| Steel quality: | Rib reinforcement BST 420/500 |
| | Board reinforcement BSTG 500/500 |
| Board Thickness (with concrete cover): | 6 cm or more according to static requirements |
| Protection against fire: | according to DIN 4102 |
| Soundproofing: | according to DIN 4109 |
| Thermal protection: | according to DIN 4108 |